In 2017/18 I participated in the RSA Student Design Awards, a global curriculum and competition for emerging designers, with a team of four other Global Business and Digital Arts students.
One of the 2017/18 challenges was called "Working Well" My team and I were very attracted to this challenge because we felt the work place has become a very stressful environment for many people and as soon to be grades we knew that was something we will be facing sooner or later.
The RSA strongly discouraged app solutions, so my team and I worked hard to generate ideas that were not solely technological solutions.
The solution we came up with is called the MindPod: a small space designed to reduce general stress in the workplace. With this space, you can step away from your workplace and self reflect, and heal.
It all began with Paramedics
As we filtered stressful work environments we discovered that paramedics have an extremely high suicide rate in Canada and worldwide. If that is not scary enough many of them also suffer from PTSD, depression and anxiety due to their stressful work environment. After days of secondary research we started addressing the question of "How might we help paramedics workers reduce the general stress in their workplace?
Digging up the facts
As a team we created a research plan so that we can understand as much of the issue as we can. While the rest of the team focused on more secondary research I took another approach. I've always been a peoples person so it made sense for me to try and reach out to our users.
I requested to join a multiple private paramedics Facebook groups and was able to not only read their tariffing stories but chat with some users. After getting permission I created and posted an anonymous survey in the Facebook groups.
I eventually became really eager to see how things actually worked in a station.I reach out to both Perth County Paramedics and the Waterloo Region Paramedics through both email and phone.
After a two phone conversations with the Perth County Paramedics they gave my team and I a full tour of their station. We spent half a day at the Perth station and were able to question some of the paramedics. The Waterloo Region Paramedics took more pushing before they let us in. Afterwords we found out that Waterloo Region Paramedics union were on planing a strike.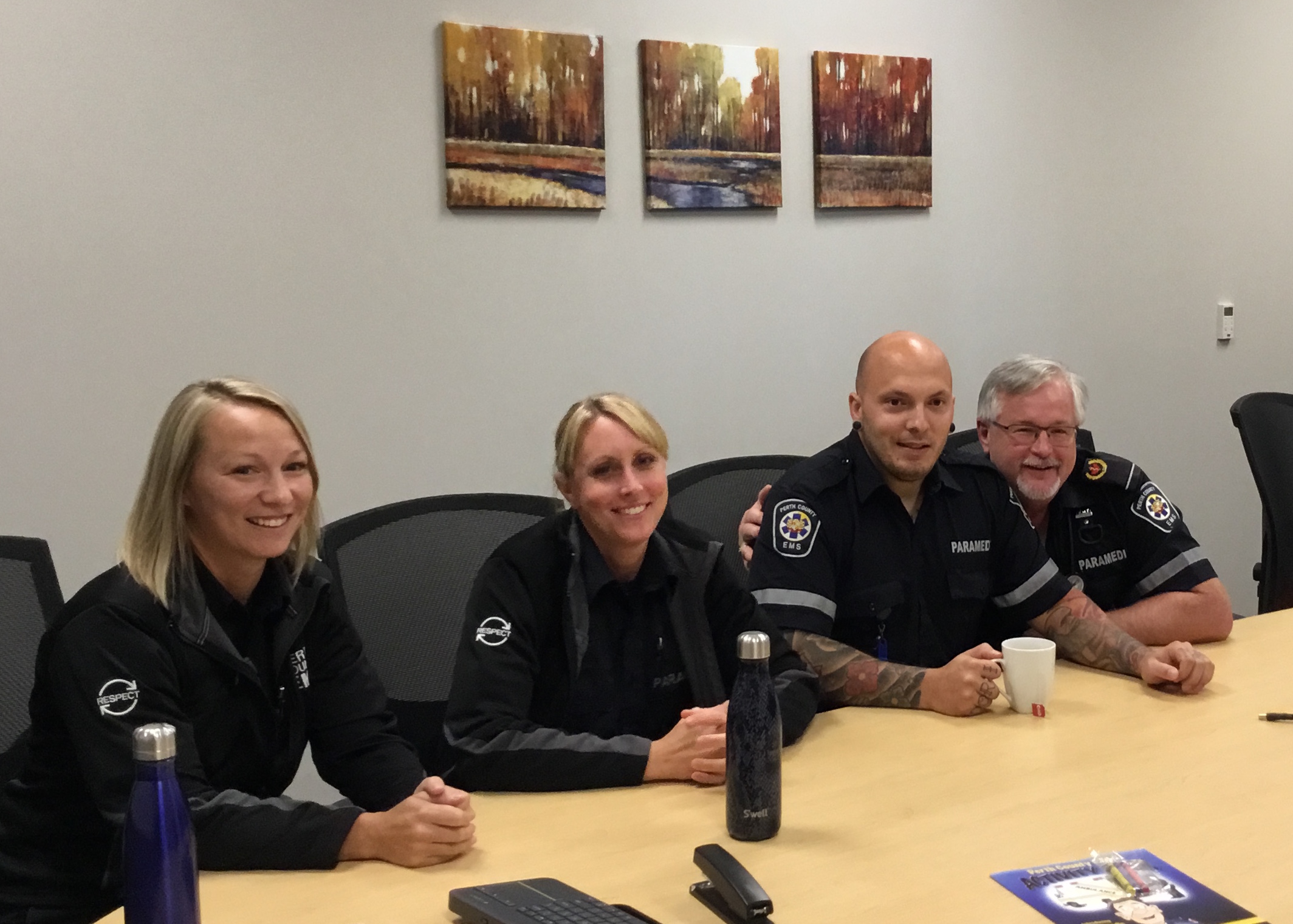 USER JORNEY
In an attempt to figure out what was the most stressful part of the job or day we created an motional user journey map.
No Personal time
After multiple interviews and conversations, we noticed a pattern. Paramedics work 12 hour shifts that always get pushed into over time, making them work on average 16-18 hours shifts. They are always doing something -field work, paperwork, cleaning trucks, restocking equipment- and on the rare occasion that there is nothing to do at work, they are surrounded by co-workers. With long shifts, they tend to feel like they are neglecting their families and try to spend time and energy they have left with them. After that they need their sleep. In this busy schedule they never have any time alone, and while user testing and in the survey, many of them mentioned that they wished for even 5 minutes to have some alone time.
THE MindPod
After quickly prototyping and testing out each idea we finalized on the quiet pod a.k.a the MindPod. Research says that having some alone time helps increase empathy and productivity, as well as reducing stress. The MindPod will create a personal space that anyone can go to to escape the general stress of work, and take some time to themselves. The MindPod also includes guided meditation to further help destress the paramedics. We created a simple interface in with the type of meditation you would like and the amount of time you will be guided for.
PROTOTYPE Phase one:
As a team we brainstormed multiple ideas and tested out some small prototypes. After receiving feedback we agreed on a single design.
Phase two:
Then I created the life sized prototypes to start testing with users.
What do the users think ?
When we tested our users, we gave them some context about the MindPod.
We asked them how their day was and how busy they have been. We were careful about asking anything about stress because we did not want to create any bias. We also took away their phones.
We made them sit in the pod for 5min, after they left we asked them many questions including how that experiences made them feel. Based on the data we collected that day many of our users left the room more relaxed than they entered.
Because we felt like it was a private experience we did not take any pictures of anyone testing the final prototype.
We conducted the test in a sound proof room because we wanted the final design to be sound proof.
IN THE END
For the final pitch I created a 3D model of how the pod would look like and we included all of our data we collected and pitched. This was the first project were I got to create a physical product, as a design student we tend to create more digital products so this was a challenge for my team and I. But in the end it was a very fun challenge and I felt more connect to the project because we actually created a physical product that someone can experience.